everybody sleeps bedtime softgels with melatonin
Everybody Sleeps Bedtime organic cbd softgels help quiet an overactive mind when its time to unwind. Blending the calming effects of cbd with your body's natural sleep regulator, melatonin, the Everybody Sleeps Bedtime Softgels help you get to sleep and stay asleep. 
25mg cbd per dose & 750mg cbd per bottle
Everybody Sleeps Bedtime CBD Softgels with Melatonin
Stress, insomnia, staring at the tv – no matter the reason –  it is too often that too many of us have suffered from lack of sleep. What's worse? Tossing and turning at night doesn't just leave you tired, it can be detrimental to your overall well-being. That's why Everybody Sleeps Bedtime cbd softgels with melatonin take our already groundbreaking nano-emulsion cbd softgels and combine them with the sleeping power of melatonin. The result? A one-two punch: 25mg of phytocannabinoid-rich hemp extract and 1mg of melatonin, to help knock-out anything in between you a sound, beautiful night's sleep!
Melatonin has been used to improve the mind's ability to unwind and doze-off by countless people in who've tossed and turned, but combined with Everybody CBD, you'll never have to count another sheep.
As with all Everybody softgels, Everybody Sleeps softgels with melatonin feature revolutionary and proprietary technology that make them quickly get to work when you need relief most. Each capsule features our nano-emulsified hemp extract, the process of which makes our particles significantly smaller than our others in the industry. These smaller particles that are more quickly and efficiently absorbed by the body, giving you the relief you're looking for without the delay you've come to expect.
Everybody CBD is committed to bringing you THC-free products, so we extract even the slightest trace amounts long before they reach our customers. We keep this promise by going the extra mile and having a 3rd-party lab test to verify there are no detectable levels of THC in our softgels. This leaves you with only a potent and fast-acting product that will have you lights out before you can even count a single sheep!
25mg cbd per dose & 750mg cbd per bottle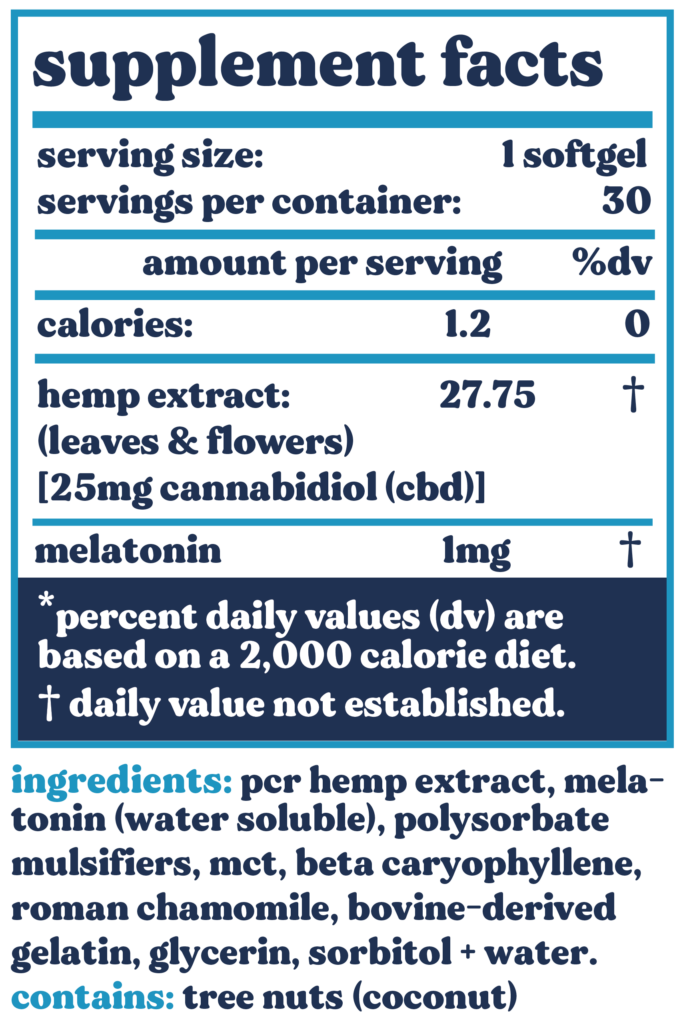 Servings
30 servings per bottle.
Product Life
18-month shelf stable.
Benefits
Manufactured in USA.
Premium grade.
Nanoemulsion technology.
Broad spectrum.
Quick absorption.
microbial analysis
Total Aerobic Count <2,000 cfu/g.
Total Yeast and Mold <200 cfu/g.
E. Coli = Negative.
Salmonella = Negative.
Contaminant Analysis
Heavy Metals: Not Detected (ND).
Lead: ND.
Arsenic: ND.
Residual Solvents: ND.
Phytocannabinoid-Rich Hemp Extract, Melatonin (Water Soluble), Polysorbate Emulsifiers, Medium Chain Triglycerides, Beta Caryophyllene, Roman Chamomile, Bovine-Derived Gelatin, Glycerin, Sorbitol and Water.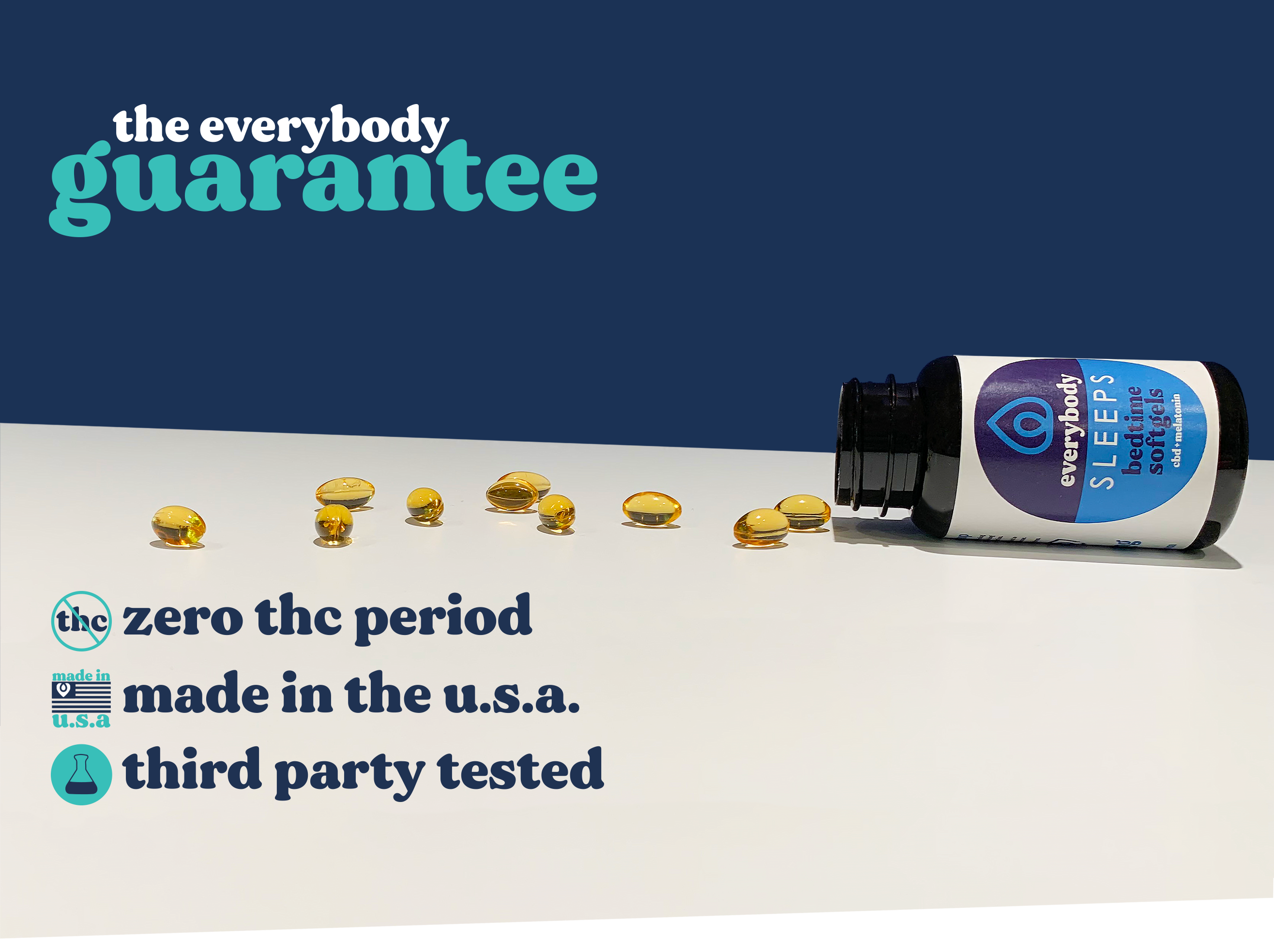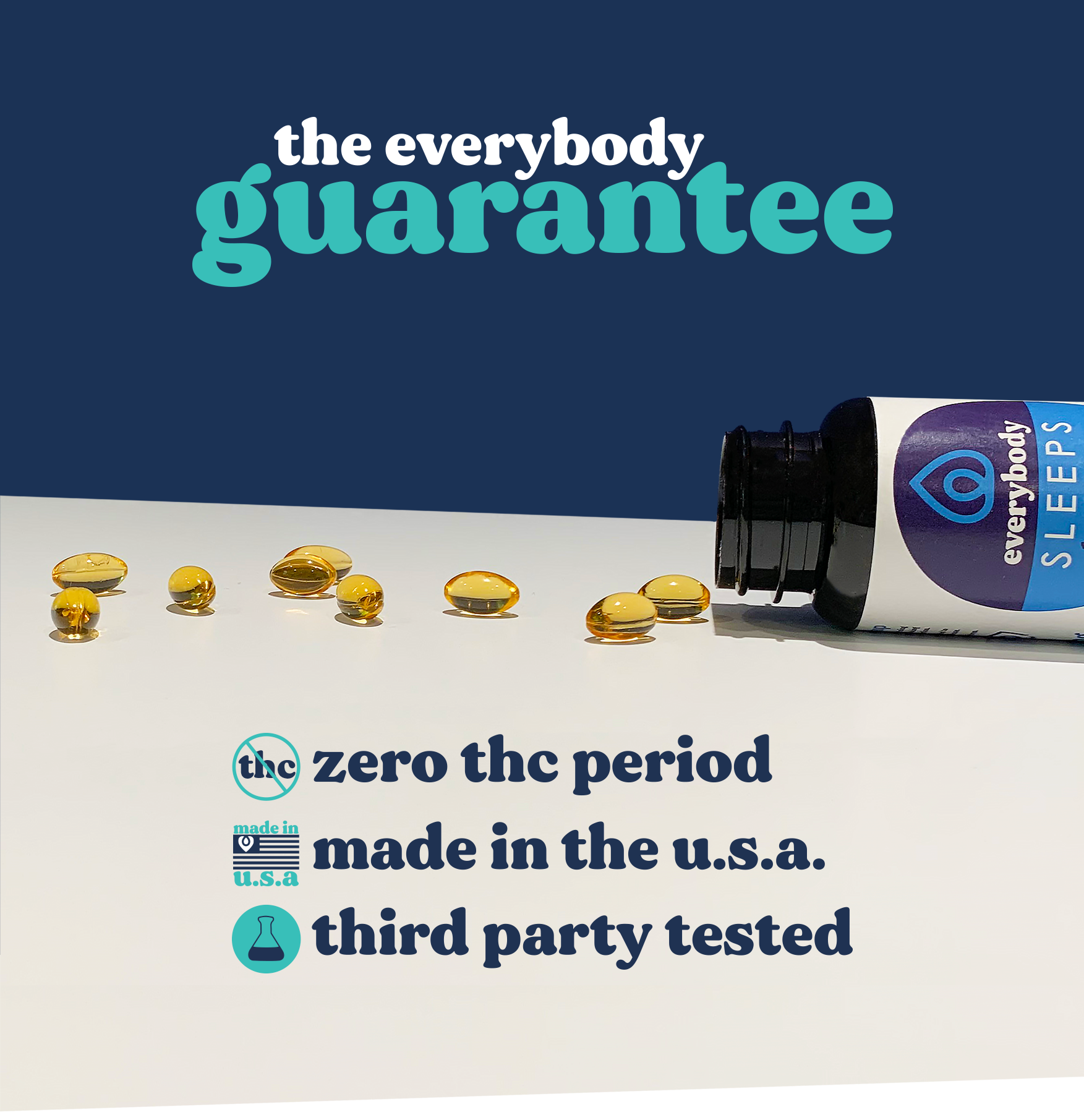 need something else? take a shortcut.
click to quick shop